Student Accommodation Liverpool
Are you searching for high-quality student accommodation in Liverpool? Then consider Cloud Student Homes as we provide the best student apartments and rooms in the city. Whether you're looking for something small for just yourself, fine with sharing, or looking for somewhere with a friend or partner, you'll find we have every need covered. Students can live at one of three locations in Liverpool – Falkland House, Plato House, and Borden Court. All three locations are furnished and maintained to the highest standards. Plus, they boast a range of facilities, so you'll want for nothing during your stay.   
If you're studying in Liverpool, Cloud Student Homes really is a no-brainer. Why settle for subpar accommodation that's overpriced, ages away from all the action and owned by someone unconcerned about you or your welfare? With Cloud Student Homes, you get the best student accommodation in the city for the best price. To learn more, call us today on 0330 053 5701. 
The Best Liverpool Student Accommodation  
Discover Liverpool, the home of Liverpool and Everton Football Club, the Beatles, and the most exceptional university accommodation, here at Cloud Student Homes. If you've chosen to come and study here, you'll need to find somewhere to live. Our first-class accommodation is situated in the heart of the city, within close proximity to everything you could need or want. Plus, our accommodation offers comfort and affordability, easily surpassing any other options available in the city.   
We offer first-class accommodation and facilities and impeccable service, all at highly affordable prices. Our rooms and studios are all furnished and maintained to a high standard. And with our on-site management team, you can always speak to someone if ever there are any issues.   
Our approach is to offer a simple, hassle-free approach when it comes to student living. We offer a friendly, down-to-earth service, ensuring you have everything you need while you focus on your studies. Liverpool students pay for their accommodation on a PCW (per calendar week) basis, and this includes the room, utilities, and internet access.   
Students of our accommodation in Liverpool will also have access to a wide array of complementary facilities, including fully equipped communal kitchens and social areas. And as mentioned above, our on-site management teams handle any problems that might arise, so you won't have to contend with anything that might impact your standard of living.  

O

ur Liverpool Student Accommodation  
So, you'd like to hear more about our fantastic Liverpool university accommodation? Our accommodation is divided across three buildings – Falkland House, Plato House, and Borden Court. These are all situated near to one another, so you won't have to go far if your friends are in a different building. The three buildings are situated in the centre of the city, just a short walk from everything Liverpool has to offer. Students will find bars, restaurants, entertainment venues, shops, pubs, and more. Plus, with more than 70,000 students, you'll certainly get to meet plenty of new and exciting friends.   
Liverpool is where you'll find some of the UK's most and highly respected universities. You'll also find an assortment of well-known bars, clubs, visitor attractions, entertainment venues, and more, as well as an excellent music scene. With so much to do right on your doorstep, you'll want to spend every available minute not studying out exploring. More on things to do in Liverpool can be found below.   
As for our student accommodation in Liverpool, you'll find nothing but quality from the smallest rooms to the largest studios. All our studios and rooms are furnished to a high standard, and there are options to fit any budget. For example, our lowest-priced room costs just £70 PP/PCW, while our top-end option costs around £120 PP/PCW. Please note that room and studio type availability vary from one location to the next, so get in touch directly to find out more.   
Across our three locations, we have a variety of room types available, such as deluxe en-suite priced at just £89 PP/PCW. These suites come with a ¾ size double bed, an en-suite bathroom, storage space, bed, desk and chair, and access to superfast broadband. These rooms come as a shared cluster of 5-6 bedrooms, with each room being lockable. You'll have access to a communal living and kitchen space. There's a TV in the living space, so you and your fellow students can relax with a movie. Deluxe en-suites come with a fitted kitchen that includes a fridge, oven, and hob.   
This is just one of the many examples of the types of rooms we offer. You can find out more about our room types, including our premier luxe studios and deluxe studios, by clicking on our Liverpool accommodation page.  

Cost of Our Liverpool Accommodation  
We want our student accommodation in Liverpool to be as affordable as possible. As we've mentioned already, all our accommodation is inclusive of all bills, including Wi-Fi. Students are simply required to pay their rent on a weekly basis, and that's it. As for costs, we have options to suit all budgets, ranging from deluxe en-suite, priced at just £89 PP/ PCW (Per Person/ Per Calendar Week) to our Premier Luxe Studios, priced at just £145 PP/PCW.  
Our larger studios offer more space, and you'd have access to your own cooking facilities. But if you're happy with something smaller and sharing a communal cooking space, our rooms are an excellent and affordable alternative. And remember that all our accommodation choices come with what's listed below as standard.  
What's Included in Our Student Halls 
We certainly have plenty of accommodation options available, all of which are affordably priced. You might be wondering what you get, considering the generous rates we charge. All our university accommodation comes with the following as standard:   
TV (Communal)  

 

Superfast Wi-Fi Broadband  

 

¾ Bed  

 

Central Heating  

 

Safety Deposit Box  

 

Desk, Chair, and Wardrobe  

 
In terms of facilities, our Liverpool locations are fully equipped in this regard. You can learn more about the facilities on offer below and if you ever have any issues, just speak to a member of our on-site team. All our buildings are protected by on-site security from 7 PM – 7 AM, who are there to protect our students. Plus, the buildings are also protected by round-the-clock security in the form of CCTV cameras and secure access panels.   
It's horrible when the unthinkable happens, and you find your personal possessions have been stolen or damaged. Fortunately, we've partnered with Endsleigh Insurance to offer contents insurance to our students at no extra cost.  
More About Cloud Student Homes 
Cloud Student Homes was founded to provide affordable, high-quality accommodation for students studying in cities up and down the country. We are committed to providing the best possible environment that's conducive to work, rest, and play. We go to great lengths to hand-pick the best locations, so our students are always at the centre of the action. You'll spend far less time travelling and more time socialising, exploring, and discovering.  
We have options to suit everyone, from large studios with built-in cooking facilities to en-suite rooms with access to spacious communal kitchens. About us, we're committed to providing students with modern facilities designed to suit their needs. It's no wonder then that so many students opt to stay with us for another year of study.  
Our Onsite Facilities  
At Cloud Student Homes, we want our students to want for nothing. Whether you're whipping up your evening meal, washing your clothes and bedding, putting your bike somewhere safe, etc., we have you covered.  
Our Liverpool accommodation sports an excellent range of facilities, including:    
Bike Storage   

 

Communal Kitchen  

 

Communal Social Areas  

 

Laundry Room   

 

Post Collection   

 

Recycling Services  

 
Students will have access to fully equipped communal kitchens with all the necessary appliances and workspace needed to prepare wholesome and nutritious meals. Each communal kitchen is shared with around 4-7 other students, and there's plenty of space for everyone. You'll find multiple ovens and microwaves, sinks, food prep areas, plus ample storage. In addition, each room comes with a fridge and freezer, so you can keep your own food separate.  
Borden Court
The first of our three locations, Borden Court, is located on London Road at the very centre of Liverpool. Students who reside at Borden Court will only ever be a short walk from all the city's various bars, restaurants, entertainment venues, public attractions and more. Likewise, the University of Liverpool is only a seven-minute walk from Borden Court, and in just 21 minutes, you can be at Liverpool John Moores University on foot.    
Falkland House 
Falkland House is the second of our Liverpool locations and, as with Borden Court, is centrally located. So students who have access to everything the city has to offer, whether they're looking to study, relax, or do some sightseeing or take in a day of culture. Falkland House provides quick access to the university and city centre and offers excellent public transport links to other city areas.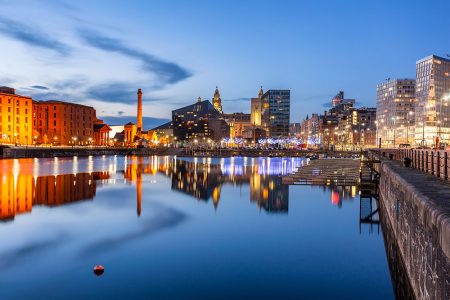 Plato House  

 
The last of our three locations situated in Liverpool, Plato House, can be found smack in the centre of the City of Liverpool. While residing at this facility, you're just a short distance on foot from the University of Liverpool and any of the campuses. You're also within reach of Liverpool SU, LILA, LSE, SU, and Kaplan. And if you want to grab something to eat, take in a movie, or go for a few drinks, you won't have far to travel.   
All three of our locations put you within easy reach of local conveniences too. So, whenever you need to grab groceries, you won't have far to go.
Benefits of Staying in Our Student Accommodation
When choosing where to live, for something, the decision is an easy one. If you happen to live close to the campus, staying at home is a no-brainer as it's an easy commute and saves you money. But if you need to move to a different city, commuting every day is no longer an option. Many options exist, from purpose-built student apartments to homestay families and private rentals. Standards can often vary, as can prices, making these options a mixed bag in terms of comfort, affordability, and reliability.  
Not all student accommodation is made equal, but when you choose our professionally managed student accommodation, you'll enjoy a whole host of benefits, making ours the best university accommodation in Liverpool. These benefits include:  
Convenience and Location 

 

Bills Included 

 

Opportunities to Make Friends and Build Networks 

 

Better Cultural Awareness and Assimilation 

 

Professionally Managed 

 

On-Site Facilities 

 
Our university accommodation is located in the heart of Liverpool. We're just a short distance from the campus as well as excellent transport links that put you in reach of Liverpool's shops, bars, restaurants, entertainment venues, etc.  
With all your bills included (including Wi-Fi) in your rent, you'll always know exactly what you need to budget each month. That leaves you with better awareness of how much free money you have leftover.  
Of course, staying in student accommodation means you'll be meeting plenty of new and interesting people daily. This gives you a great opportunity to make friends, build networks, improve cultural awareness and assimilation.  
Professionally managed accommodation means that there is always a management team on site. If you have any issues, if anything is faulty, broken, or damaged, or if any other requests arise, just let them know. They are there to ensure that the building and accommodation are maintained to our high standards.  
Finally, with a bevvy of on-site facilities available, you won't have to venture far for the basics, like doing the laundry.  
Things to Do in Liverpool
Here in Liverpool, there's plenty to see and do, whether you're visiting a cultural attraction, grabbing a bite to eat, enjoying some post-study drinks, or taking a romantic stroll through the city. You can treat yourself to an afternoon's worth of entertainment or paint the town red. Liverpool has plenty to offer, beginning with the Baltic Triangle. You'll find plenty of iconic events and attractions in The Triangle, including the Baltic Market, a themed Peaky Blinders bar, Ghetto Gold, and more.   
Lovers of vintage clothing and anything bohemian can get their fix of quirky fashion when they head on down to Bold Street. You'll find an array of choices, including unique fashion items – you're sure to find something you'll love.   
If you're looking to dress to impress, we recommend heading to Lark Lane, where you'll find unique food and drink venues, along with a dog-friendly café. Whether you're visiting during the day or returning at night, you'll find this has everything a student could want. Speaking of hitting the town, Liverpool is certainly not short of bars, clubs, and pubs. Money as a student can be tight, so it's good news that many of these venues host student nights.   
Check out the Cavern Club, as this venue has seen many high-profile musicians perform over the last 50+ years, from The Beatles to the Arctic Monkeys. If a night of drinking has you feeling a little hungover the following day, take a stroll down to Liverpool Docks, where the fresh air will certainly clear your head. And while you're there, why not take in some of the many galleries and museums you'll find, including the world-famous Tate Modern. There's also The Museum of Liverpool and The Beatles Story Museum to discover.    
And if you fancy spending the day doing a spot of shopping, we recommend checking out Liverpool One, where you'll find all the best high-street stores along with a cinema complex showing all the latest releases.  
Why Choose Cloud Student Homes for The Best Liverpool Student Accommodation?
When it comes to student accommodation in Liverpool, you simply cannot beat Cloud Student Homes. We've worked tirelessly to create a truly diverse and inclusive environment in which students from all backgrounds can stay and feel welcome. If you love the idea of meeting and befriending new and interesting people, you'll simply love the dynamic, multicultural environment we've created. But, of course, the star attraction is the accommodation, and ours doesn't disappoint.   
Those staying in Liverpool with Cloud Student Homes will enjoy first-class accommodation that's furnished to a high standard. You pay a single affordable amount per week, and that covers your room, utilities, and access to our facilities and superfast broadband. This means you have one less thing to worry about and can instead focus on your studies and living your best student life.   
Our rates are very affordable, and with multiple rooms and studios available, you're sure to find the right one to suit your budget and living requirements.  
FAQ 
If you have questions regarding Liverpool's best university accommodation, you can find answers to frequently asked questions on our FAQs page.  
Testimonials 
Before making your final decision, you might wish to hear from former students who've lived in our university accommodation in Liverpool. Click on our testimonials page to find out more.  
Gallery 
Suppose you wish to see our university for yourself to decide whether it's worth visiting to take a closer look. Simply navigate to our gallery page, where you'll find plenty of high-definition images of our accommodation.  
If you've seen and heard enough and would like to get in touch with Cloud Student Homes, use any of the contact details listed below to get in touch.  
Contact Us
If you're looking to study in the heart of Liverpool and searching for high-spec student accommodation, you've struck gold. Liverpool is a great place to spend your studies, but like with any other city, accommodation options can vary wildly. By choosing Cloud Student Homes, you'll be saving yourself a lot of time, stress, and money. Our high-quality student halls are very affordably priced. Liverpool students will struggle to find comparable standards at this price anywhere else.  
In fact, we're confident that our accommodation is the best you'll find in the city. So spend your time at university living in comfort without the worry of bills and unscrupulous landlords.   
If you would like to get in touch to learn more about our Liverpool locations, simply pick up the phone and call Cloud Student Homes today on 0330 053 5701. You can also get in touch by filling out our online contact form or emailing info@cloudstudenthomes.co.uk.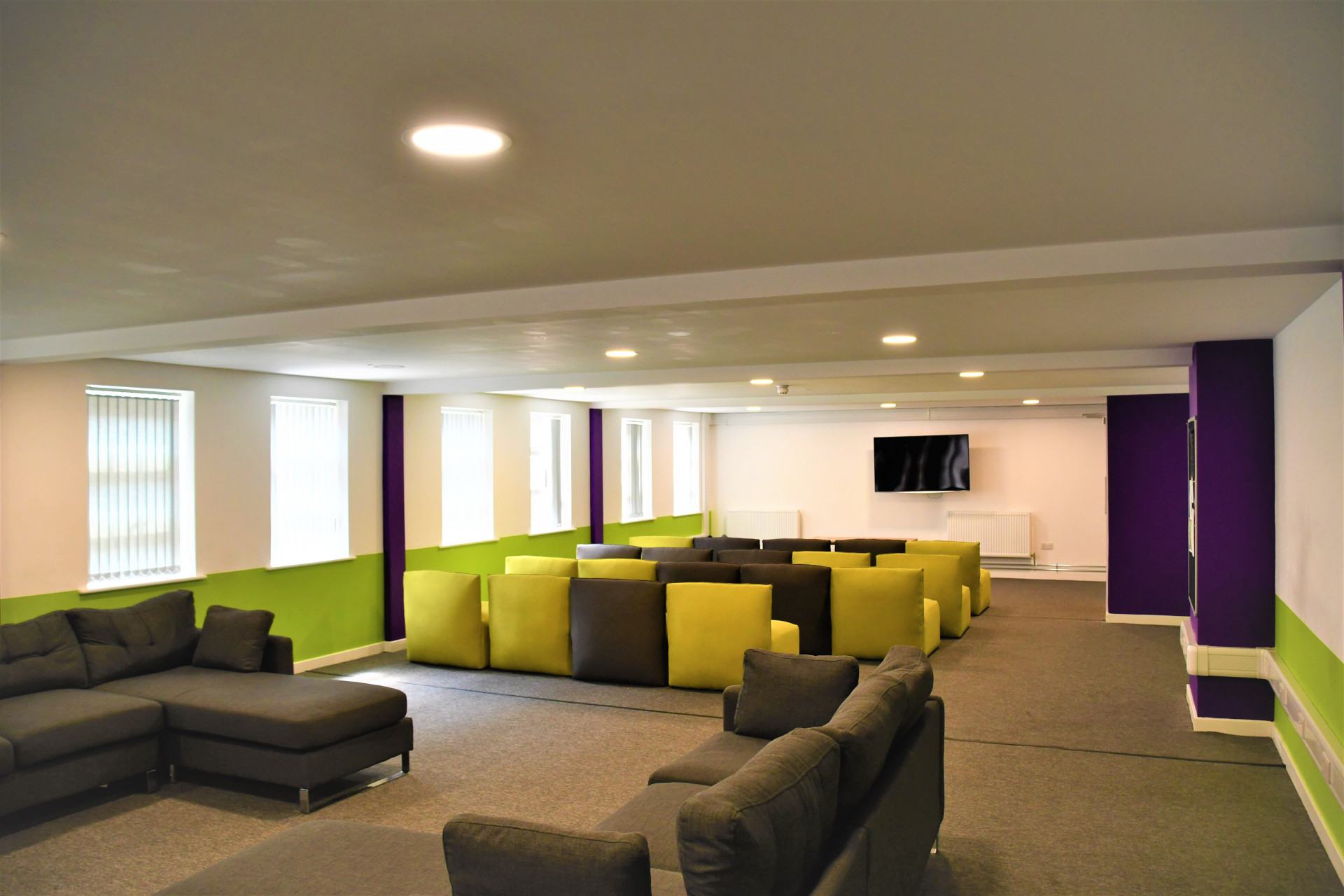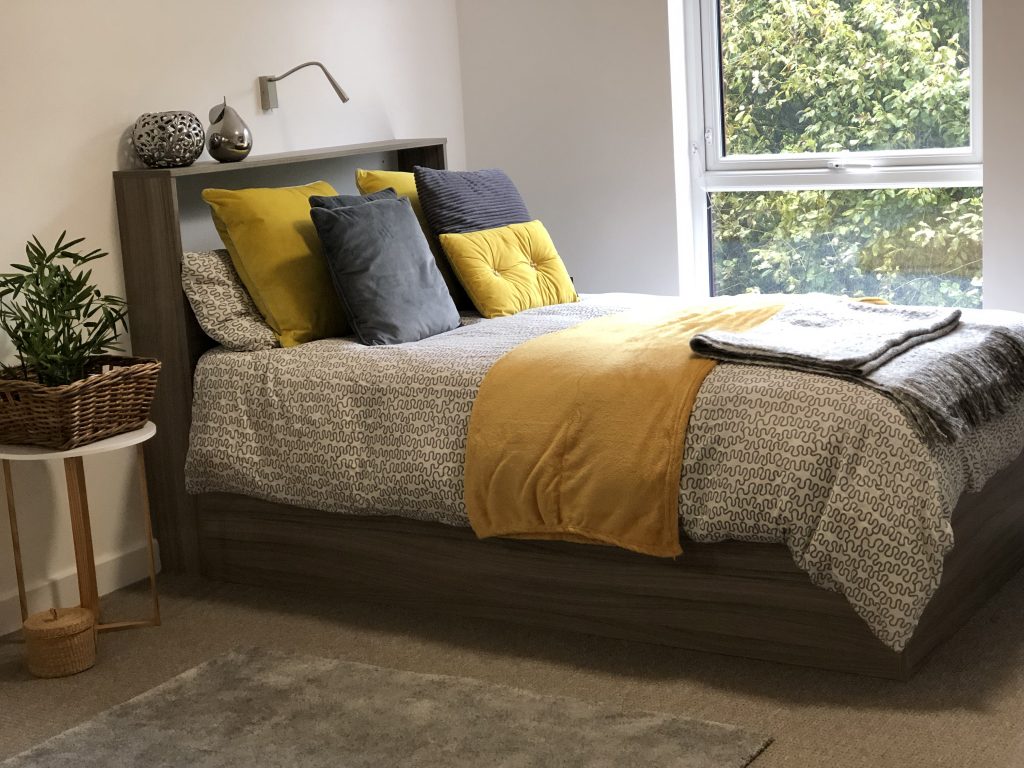 Not Just a Room, we are Home
You need look no further than Cloud Student homes for safe, secure, hassle-free student accommodation in many cities such as Leicester accommodation, Liverpool accommodation, and Loughborough accommodation. They're just some of the many locations where you'll find our modern, fully furnished student homes. We offer premium student accommodation in Canterbury, Chester, and many more cities. We have a wide range of first-class rooms and studios. Students will benefit from great rates, all the mod cons of home, onsite facilities, and rent inclusive of all bills and superfast Wi-Fi. 
Student homes in cities like Liverpool and Leicester isn't just about the roof over your head, it's about living in a safe, secure and hassle free environment…..with quality WiFi of course! With so many options available, we're sure to be able to find the perfect match for you. Check out our locations and rooms, we'll be very happy to arrange a viewing for you, or you can book online. You'll soon discover why so many of our students choose to rebook with us year after year. Our buildings are accredited with the national code for large student developments.
Feel Right at Home with Cloud Student Homes
Here at Cloud Student Rooms, we want all our students to feel right at home. To that end, we've created an environment that's friendly and welcoming where students can feel safe and relaxed. Thanks to our onsite management teams, you'll always have someone to speak to if you have any problems or queries.
And because we know that juggling costs while studying can be a headache, we've made life that little bit simpler for our tenants. You pay your month's rent, and this will cover all your utilities too, including:
No setting up accounts or paying money to different providers – just one, simple payment; easy! Gas, electricity, WiFi, all looked after. Your building has a dedicated team, no need to contact letting agents to wait ages for responses. Our student app will soon enable you to report maintenance issues and keep track of social events. All of our staff are trained in student welfare and health and safety. If you'd like to learn more about our service and accommodation, full information can be found by clicking on our FAQs section.
All Utilities
No unexpected bills
Superfast Broadband
Superfast broadband included
Secure Building
On-site professional management
Fully Furnished
All our rooms come fully furnished
About Cloud Student Homes
Ending up saddled with accommodation that's barely fit for human habitation can be a nightmare.
Trust us, we hear you. This is why we set up Cloud Student Homes – to provide students with affordable, high-spec accommodation. And when it comes to student life, we know that your time spent at Uni is more than just work, work, work. So that you have ample opportunities to let your hair down and enjoy yourself, we've purposely cherry-picked the best spots for our accommodation.
No matter what location you choose, you'll find yourself just a stone's throw from the city centre where all the action is located. And, of course, you'll never be too far from your campus either. The team at Cloud Student Homes really are committed to making your stay with us a pleasant one. No matter what issues should arise, you'll always be able to speak to one of our friendly team who will be more than happy to assist you.
We've also made it as easy and affordable as possible to book with us. For instance, subject to meeting the criteria, you can opt to pay for your room in as many as nine installments or you can pay when your loan arrives if you'd prefer. Just email, call or live chat to discuss your options.  And with rates as competitive as ours, there's no reason why you can't live comfortably while you study.
Your beginning starts here, so make sure you do it right. If you'd like to find out more about our student accommodation, call Cloud Student Homes today to speak to a member of our knowledgeable team.