Student Accommodation Leicester
Have you been searching for the best student accommodation Leicester has to offer? Then you're in luck, as you've now found Cloud Student Homes! We're proud to run some of the best accommodation establishments for students in the country, so be sure to reach out if you've been browsing. You can reach our friendly team over the phone today by calling 03300 535 701. Alternatively, email info@cloudstudenthomes.co.uk for further information.
Outstanding Leicester Student Accommodation
Here at Cloud Student Homes, we're delighted to offer the best student accommodation Leicester has available. Our team have put together a number of facilities that have been designed to house students comfortably during their time at university. We have gone the extra mile to make sure that these facilities have everything students could need for their time with us. Read on to learn more about our accommodation and find out what makes us such a desirable option.
In the time that we've been operating, we've established ourselves as the first choice student accommodation provider in the UK. Our dedicated team work tirelessly to improve our facilities throughout Leicester so that students can live comfortably while at university. It is because of our excellent reputation that many consider us to offer the best Leicester student accommodation.
The Best Student Accommodation Leicester Has Available
Our main student accommodation in Leicester is Tudor Studios. Here, residents can enjoy comfortable living space and take advantage of a whole range of facilities. We have a gym, coffee shop, luxury common room, and much more available for those who choose to live here. Our team have worked hard to make sure these facilities are the latest available. You won't find on-site facilities that are of the quality of ours in similar Leicester accommodation options.
We realise how important it is to have the comforts of home readily available at your new place of residence. It is for this reason that we have made sure that every room has access to superfast wi-fi as well as spacious storage options. You won't be left wanting for anything when you stay with us. It is because of these excellent facilities that many consider ours to be the best student accommodation Leicester has to offer.
Offering More Than Leicester Student Accommodation
At Cloud Student Homes, we're proud to offer more than just the best student accommodation Leicester has available. We also have facilities in the following UK cities:
To learn more about our accommodation options in these locations, simply get in touch with a member of our friendly team today!
Welcome to Leicester
When choosing a place to study, the location is often just as important as the university itself. Leicester certainly has plenty of offer the adventurous student, but more on that below. First, a little bit about this amazing locale. Leicester is a delightful blend of serene suburbs and eclectic city life, making it the perfect location for student accommodation. Leicester residents would happily agree.
There's plenty to see and do here from culture and history to entertainment, shopping, and nightlife. Whether you're looking to brush up on your history, discover something new, take in a movie, let your hair down, etc., Leicester has you covered. Located in the East Midlands on the River Soar, it's a small city with a modest population of around 349,000 – but don't let that put you off.
With three world-class universities located here, there's a good chance Leicester will feature on your list of possible university candidates. So, let's learn a little more about the local area to help you make your final decision. You can also always learn more by clicking on the Visit Leicester website.
Things to Do in Leicester
Our student accommodation in Leicester is never too far from the action; in fact, you're quite literally at the heart of it. Whether you're seeking a romantic spot, the newest, trendiest bar, the pick of upcoming events, or a little culture, Leicester has it all and more. The city is a hub of goings-on providing a taste of everything, from city life to canal-side tranquillity.
Places to Drink and Socialise
Coffee is a student's best friend, and Leicester certainly has no shortage of excellent independent coffee shops and cafes. While residing in our student accommodation, Leicester students can frequent Bru, open until midnight and a popular spot for international students. If you're looking for something stronger, there's The Globe – one of the UK's oldest pubs, established back in 1720!
Our Leicester student accommodation also puts you within easy reach of other great venues, most offering cheap student nights. One place – The Mosh – hosts three floors of music spanning indie, alternative, and Club Republic. They also host events such as 'Battle of the Unis' which are worth checking out. But what about trying something different?
Fantastic Events Schedule to Inspire
Leicester plays host to many different festivals, including St Patricks Day, the Indian Festival of Light, and the Caribbean Carnival. There's also The Leicester City Festival which gives students the perfect opportunity to fully experience an eclectic range of music, art, performance events and street food. And for culture buffs, there's plenty to take in, such as a visit to Leicester Cathedral – final resting place of King Richard.
Fun Things to Try
First, Abbey Park – located less than a mile outside of the city and from our student accommodation. Leicester students will discover a gorgeous little escape complete with a lake where you can take boats out. There's also a mini railway and a lavender maze to get lost in.
A little further afield from our student accommodation in Leicester is Bradgate Park. Bradgate is one of the country's largest parks and offers stunning views, historic ruins, and the best cakes in Leicester at Jade's Tearoom. There are also wild deer roaming about which really set Bradgate Park apart from the city life.
Shop till You Drop
While residing at our student accommodation, Leicester students will be only a short walk away from Leicester Market. Here, you're sure to find a great selection of items as well as a cheeky bargain or two. Plus, the city centre hosts countless high-street stores and all the best-known brands. And, of course, there are food stores too to keep you fully stocked.
Why Choose Our Student Accommodation in Leicester?
At Cloud Student Homes, the satisfaction of our tenants comes before all else. As such, we've made sure that we're available all the time to deal with any issues you may be having while with us. Our staff are always on-site to handle immediate problems quickly and offer viable solutions. If you are experiencing an issue with your room, rest assured that we will be there to solve it. This commitment to our residents makes ours the best student accommodation Leicester has to offer.
We realise that there is a lot to consider when deciding on student accommodation. As such, we have put together a handy FAQs page for potential tenants to browse through. Here, you'll find all the key information about our Leicester student accommodation options. If you have any further questions, then our team will, of course, be more than happy to help so that you can make an informed decision on your future living.
Contact Us
So, if you're convinced that we're the best option for student accommodation Leicester has to offer, then don't hesitate to get in touch with us at Cloud Student Homes today! Our team are always willing to discuss our accommodation options at length, so be sure to reach out if you have any specific questions. You can reach us over the phone now by calling 03300 535 701 or email info@cloudstudenthomes.co.uk, where we'll get back to you shortly.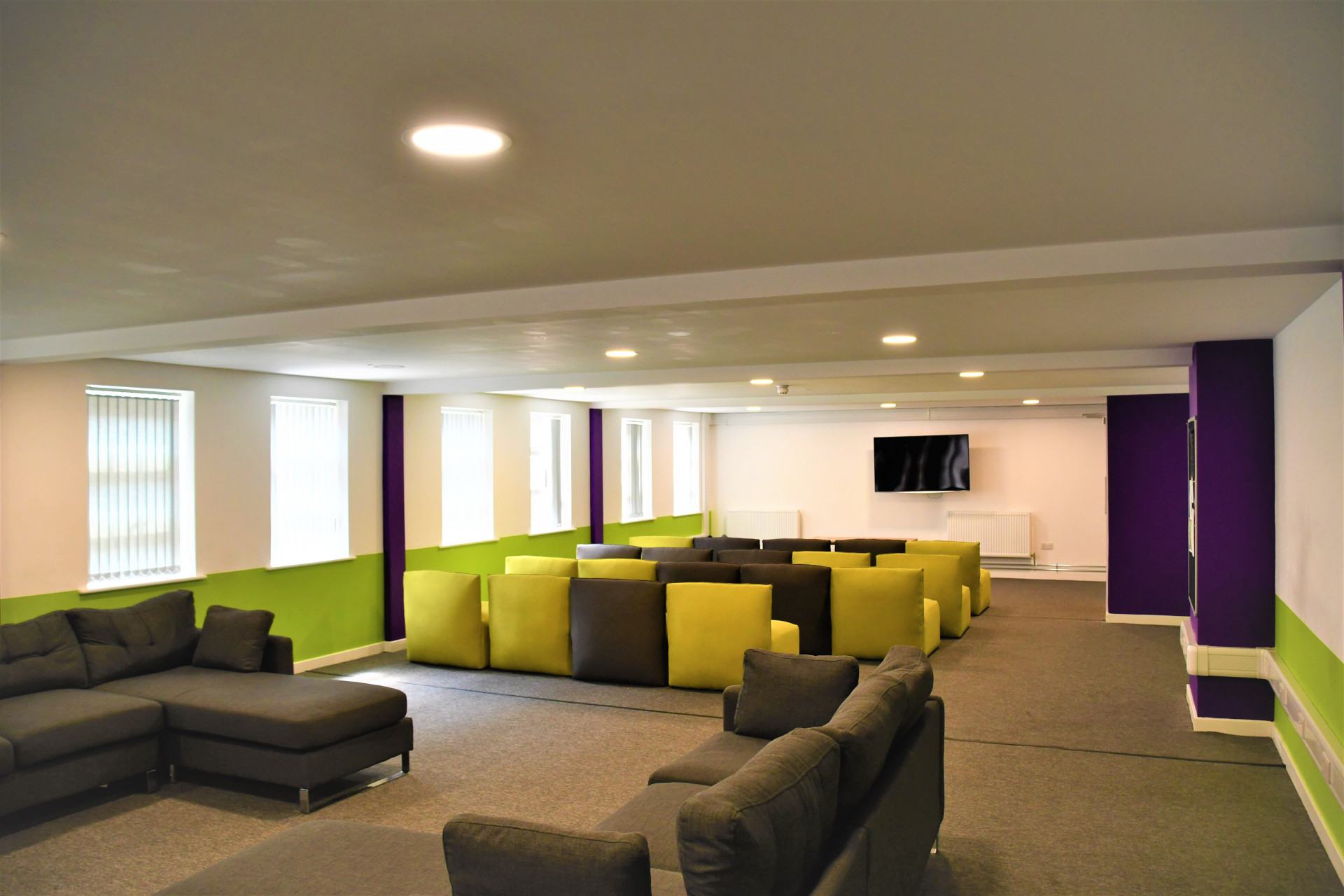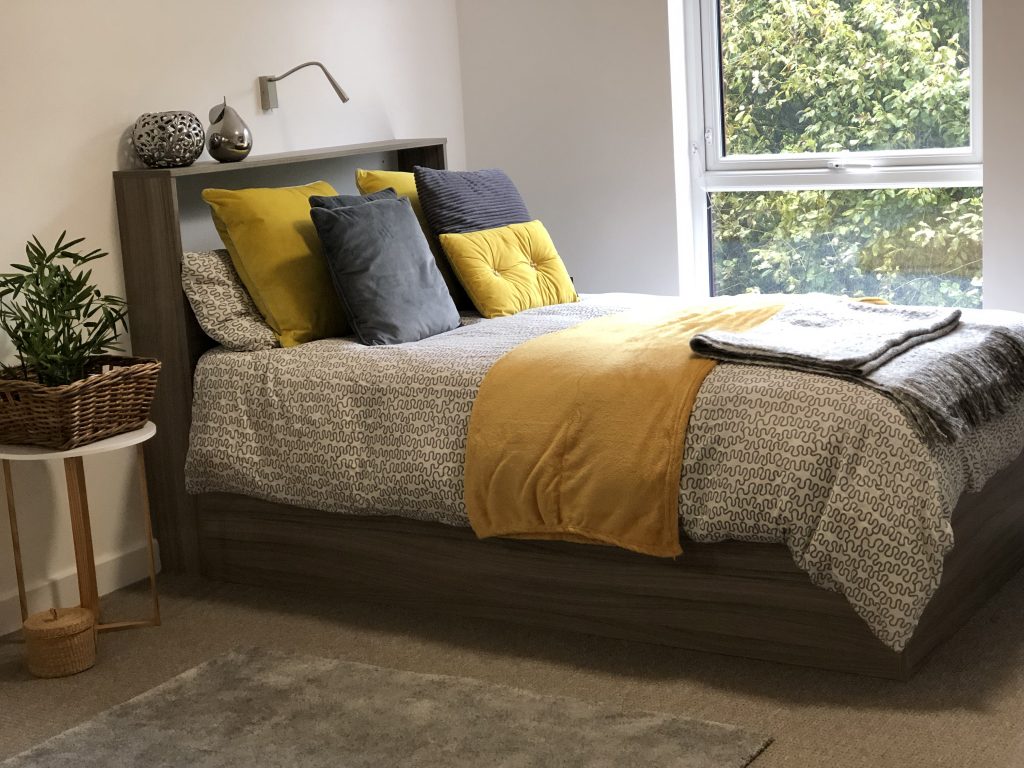 Not Just a Room, we are Home
You need look no further than Cloud Student homes for safe, secure, hassle-free student accommodation in many cities such as Leicester accommodation, Liverpool accommodation, and Loughborough accommodation. They're just some of the many locations where you'll find our modern, fully furnished student homes. We offer premium student accommodation in Canterbury, Chester, and many more cities. We have a wide range of first-class rooms and studios. Students will benefit from great rates, all the mod cons of home, onsite facilities, and rent inclusive of all bills and superfast Wi-Fi. 
Student homes in cities like Liverpool and Leicester isn't just about the roof over your head, it's about living in a safe, secure and hassle free environment…..with quality WiFi of course! With so many options available, we're sure to be able to find the perfect match for you. Check out our locations and rooms, we'll be very happy to arrange a viewing for you, or you can book online. You'll soon discover why so many of our students choose to rebook with us year after year. Our buildings are accredited with the national code for large student developments.
Feel Right at Home with Cloud Student Homes
Here at Cloud Student Rooms, we want all our students to feel right at home. To that end, we've created an environment that's friendly and welcoming where students can feel safe and relaxed. Thanks to our onsite management teams, you'll always have someone to speak to if you have any problems or queries.
And because we know that juggling costs while studying can be a headache, we've made life that little bit simpler for our tenants. You pay your month's rent, and this will cover all your utilities too, including:
No setting up accounts or paying money to different providers – just one, simple payment; easy! Gas, electricity, WiFi, all looked after. Your building has a dedicated team, no need to contact letting agents to wait ages for responses. Our student app will soon enable you to report maintenance issues and keep track of social events. All of our staff are trained in student welfare and health and safety. If you'd like to learn more about our service and accommodation, full information can be found by clicking on our FAQs section.
All Utilities
No unexpected bills
Superfast Broadband
Superfast broadband included
Secure Building
On-site professional management
Fully Furnished
All our rooms come fully furnished
About Cloud Student Homes
Ending up saddled with accommodation that's barely fit for human habitation can be a nightmare.
Trust us, we hear you. This is why we set up Cloud Student Homes – to provide students with affordable, high-spec accommodation. And when it comes to student life, we know that your time spent at Uni is more than just work, work, work. So that you have ample opportunities to let your hair down and enjoy yourself, we've purposely cherry-picked the best spots for our accommodation.
No matter what location you choose, you'll find yourself just a stone's throw from the city centre where all the action is located. And, of course, you'll never be too far from your campus either. The team at Cloud Student Homes really are committed to making your stay with us a pleasant one. No matter what issues should arise, you'll always be able to speak to one of our friendly team who will be more than happy to assist you.
We've also made it as easy and affordable as possible to book with us. For instance, subject to meeting the criteria, you can opt to pay for your room in as many as nine installments or you can pay when your loan arrives if you'd prefer. Just email, call or live chat to discuss your options.  And with rates as competitive as ours, there's no reason why you can't live comfortably while you study.
Your beginning starts here, so make sure you do it right. If you'd like to find out more about our student accommodation, call Cloud Student Homes today to speak to a member of our knowledgeable team.